Raj Kumar Trehan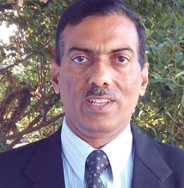 Head of Senior School
Stepping into the field of education to begin his career, Raj Kumar Trehan joined the Moravian Institute, Dehradun back in the year 1989 with a B Ed degree as well as Masters in Geology and Mathematics. He moved to Constancia School, Dehradun in 1992 as Senior School Coordinator and was the Acting Principal for a short duration. In the year 1998 he joined Carman Residential and Day School. The immense responsibility that came with the post could not deter him from continuing his passion for learningand he pursued Masters in Business Administration (MBA) in Education Management. This led him to take the chair of Senior School Coordinator. He eventually was offered membership of the School Management Committee. He took up the responsibilities of assisting the Convenor for the Council of Indian School Certificate Examinations (CISCE) that were offered to the institution from 2009. He is also on many important and confidential panels of Council for the ISCE – New Delhi.
He considers his association with students as a way of life. He has been a students' favorite for organizing the co-curricular activities which include, but are not limited to, excursions – trekking and bird-watching trips, school fetes, etc. He finds interest in gardening, photography, listening to old music and most importantly, community service. As a keen nature lover, he organized many tree – plantation drives as well.
After 32 years of being an educationist, his passion drove him to take another step up the ladder and he joined The OASIS – The Oberai School of Integrated Studies, Dehradun as the Head of the Senior School. During his overwhelming tenure, today he has made a mark for himself in this noble field and wishes to contribute more and more with each passing day.