Sanjiv Bathla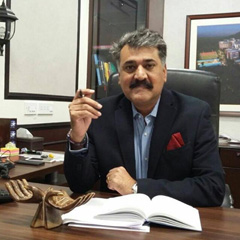 School Director & Head of School
Accompanied by a decade of understanding through work experience in the corporate sector, at New Delhi and Bangalore and the extensive travel and interaction that came with it, stimulated Sanjiv Bathla to rethink career options. He made an entry to education, as a school Master, to The Doon School. His initial study specialisation is in the subjects of Economics and Business. Innovative management practices, Border Economics, Behavioural Economics and Keynesian theories interested him the most.
Sanjiv Bathla considers community service and social entrepreneurship works well in his philosophy of learning. He has formally researched and trained with The Tata Institute of Social Science on a year – programme, decisively to introduce Social Entrepreneurship at the school level. With it comes Entrepreneurship and Financial literacy, which both students and teachers will include in the curriculum.
His passion for building teams within communities motivated him to take a step towards a more demanding role. As the Founder Principal at Shri Ram Centennial School, Dehradun, He dedicated himself for a few years to creating a unique culture with a fresh perspective towards Schooling. Having spent his school days at a boarding school from an early age, he became keen to take up teaching. He feels fortunate to serve over 12 years at his Alma Mater that stimulated his decision to take up an assignment to set up a residential school in the Eastern part of the country.
Sanjiv Bathla is the Founder Head and Director at The OASIS – The Oberai School of Integrated Studies, Dehradun. His interests range from trekking, golf, swimming, photography and experimental camp cooking. His recent initiative for the Introduction to Experiential and Outdoor platforms for adventure, organic farming and housing of dairy cattle on the school campus has encouraged many students to learn skills and integrate entrepreneurship and a variety of subjects.
Having introduced the Curriculum, He is leading the Global Perspective Programme for The OASIS. The exposure of teaching the IB/ ICSE-ISC and CBSE at Residential as well as Day Boarding co-educational schools has set a vast perspective on areas of academic, sport, cultural, adventure and community service.His personal emphasis has been on the schools to progress towards a transformational framework, on building resilient leadership, vibrant vision, distinguished culture and eternal relationships.His accomplished skills range from Student growth and development, Team management, Project organisation, Operational improvement and for creating conducive learning environments for an all round education.