Pallavi Jha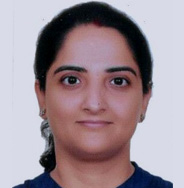 Head Primary School
(Coordinator Primary Assessment International Education)
As a seasoned educationist, Ms. PallaviJha has spent the past twenty-one years working with renowned educational organizations to bring all her vivid and enriching experience at the national level. Through her innovative, inimitable approach, research work and in-depth exertion in curriculum designing and development, she ensures that no stone is left unturned in the area of ever sprouting and dynamic education system along with its challenges today and expectations of tomorrow. Some of her educational success benchmarks include The British School, New Delhi, DPS RK Puram, New Delhi and Pennwood Academy, Kathmandu, Nepal. She is well-versed with IGCSE (International General Certificate of Secondary Education), IB (International Baccalaureate), ISC (Indian School Certificate) and CBSE (Central Board of Secondary Education).
Ms. Pallavi became interested in teaching since she grew in a family of educators, who have played a key role in shaping her personality today. She is a qualified and trained educator of 'ESL students in the mainstream' and 'Gifted and Talented Students'. She possesses excellent communication, presentation and interpersonal skills with proven abilities in teaching and pupil handling. She has done mammoth work in mentoring and preparing students for various assemblies in school, providing range of extra-curricular activities by giving exposure outside the classroom activities under the pillars of Round Square and Model United Nations Conferences. She understands the core issues of primary school learners and their behavioral issues.
A Loreto Convent alumna, Ms. Pallavi is a Gold Medalist in Bachelor of Arts (Honors) in Geography from Himachal Pradesh University, Shimla and continued to receive her Master's Degree in Geography from Panjab University, Chandigarh, followed by B.Ed. As a person of diversified and versatile nature, she is also an alumna of School of Planning and Architecture, New Delhi.