Ms. Natascha Nandi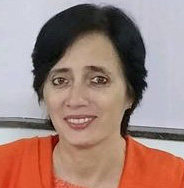 Head Junior School
(Coordinator Lower Secondary Assessment International Education)
Natascha Nandi Heads the Junior School at The OASIS. She is result oriented and self driven and committed. With more than twenty three years of rich experience in educational institutions, she specialises in teaching and counseling. She has had the opportunity to teach in well reputed day, day boarding as well as residential schools affiliated to the Central Board of Secondary Education, Council for the Indian School Certificate Examinations as well as. She considers herself fortunate to have been instrumental in setting up the systems for the opening of three reputed institutions, The Oberai School of Integrated Studies being one of them.
Her administrative and educational experience at The Assam Valley School, as a Housemistress, Round Square Representative and Junior Headmistress in the institutions she has served in enhanced her as a pastoralcare giver, administrator as well as a sound administrator for an educational institute.
Service to the community is a virtue she carries with her since her days in School as a 'Striver'. It remains very close to her heart and she identifies herself through her service. This drives her to ensure that every child experiences the joy of giving and sharing.